New York Film Fest: 'Captain Phillips' Writer, Producer Talk About Gripping True Story, Movie's Gotham Debut
our editor recommends New York Film Festival 2013: 13 Movies to Know The intense film, which stars Tom Hanks as the titular captain of a U.S. container ship that was hijacked off the Somali coast in 2009, was introduced with great fanfare — highlighted by the attendance of not only Greengrass, Hanks and the film's principal Somali actors, but also Capt. Richard Phillips himself (before whom Hanks knelt to kiss his hand), a number of the men who worked alongside him on the MV Maersk Alabama and several uniformed U.S. Navy personnel who came to his rescue aboard the USS Bainbridge. FILM REVIEW: Captain Phillips At its conclusion, the film received a prolonged ovation — which turned into a standing ovation once a spotlight was placed on Greengrass and the Somali actors in a box above the rest of the audience (Hanks had to leave early) — from a crowd that included Sony Classics co-chiefs Michael Barker and Tom Bernard; the Oscar-winning screenwriter of Argo Chris Terrio, who's writing a script for Greengrass now; and the Oscar-nominated actress Marianne Jean-Baptiste, who starred in Greengrass' 1999 TV film The Murder of Stephen Lawrence; and writer-director James Toback. The general sentiment among New Yorkers at the screening and the Harvard Club after-party — at which Greengrass and particularly the Somali actors were the center of attention — was that the film has a strong shot at scoring a best picture Oscar nomination and an even stronger shot at bringing Hanks his first acting Oscar nom in 13 years, particular for his work during the final minutes of the film, which left much of the audience in tears. Rose Kuo, the executive director of the Film Society of Lincoln Center, noted during her pre-screening remarks that the fest seems to have a thing for movies about men experiencing problems aboard boats: last year's edition opened with the world premiere of Life of Pi and this year's, in addition to opening with Captain Phillips, will include a screening of All Is Lost, another example of the sub-genre. This was also the second New York Film Festival opening night screening in the last four years to come courtesy of Sony Pictures and producers Scott Rudin, Dana Brunetti and Michael DeLuca, whose last collaboration was the 2010 film The Social Network, which went on to be nominated for eight Oscars and won three. Other recent openers have included About Schmidt (2002), Mystic River (2003), Good Night, and Good Luck (2005) and The Queen (2006), which all went on to receive major Academy recognition, as well. This is the first New York Film Festival in 26 years that was not coordinated by Richard Pena. He was succeeded at the end of last year's fest by Kent Jones.
New York City Air Quality The Best In 50 Years, Announces Mayor Bloomberg
Mayor Michael Bloomberg attributed the transformative results to his 2007 project, PlaNYC , an initiative aimed at creating sustainable green reforms around the city from better air quality to more affordable housing. "Our PlaNYC agenda set an ambitious goal of having the cleanest air among the largest U.S. cities," BLoomberg said at a Climate Week event in the Lighthouse at Chelsea Piers. "Today's results show that we have already made major progress towards that goal, which is saving lives and improving the health of New Yorkers." In the city's Community Air Survey , officials found that levels of sulfur dioxide in the air have dropped by 69 percent since 2008 and the level of soot pollution in the air has dropped by 23 percent thanks, in large part, to PlaNYC's Clean Heat program, which was aimed at reducing pollution heavy heating oils. Clean Heat was successful thanks to three key reforms: decreased amounts of toxic heating oils, lowered sulfur content in heating oils and expanded natural gas supplies and local gas distribution. Over 2,700 polluting buildings have phased out toxic heating oils as of 2011 and there are currently 2,500 buildings working on conversions, even though the estimated 10,000 buildings in the city that burn toxic heating oils have until 2030 to make their reforms. The cleaner air, Bloomberg said, is estimated to prevent as much as 800 deaths and 2,000 hospital visits due to lung and cardiovascular diseases annually, compared to 2008 records. Manhattan, northern Queens and the South Bronx achieved the greatest improvement in air quality through natural gas conversions. "The substantial reductions in air pollution we're seeing translate into healthier New Yorkers who are breathing cleaner air," said Michael Seilback, Vice President for Public Policy and Communications at the American Lung Association of the Northeast. "As more buildings convert to cleaner burning fuels, we will see even greater health benefits." To capitalize off of this momentum, the Department of Environment Protection also sent a proposed update to New York City's Air Code to the City Council. If enacted, this update will be the first major revision to the code in 38 years. The new code will update emission standards and focus on the most notorious sources of pollution like commercial cooking establishments.
New York Jets vs. Tennessee Titans: Live Score, Highlights and Analysis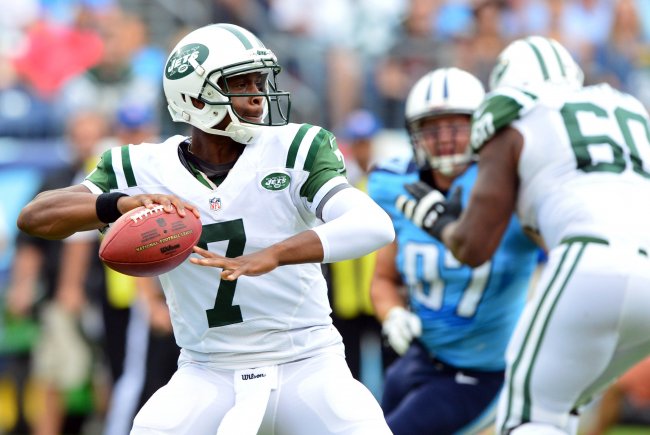 It would be unfair for me to even speculate." Mariano Rivera didn't pitch in the final game of a career that started in 1995, and Robinson Cano and Curtis Granderson were among the players unsure whether they had played their final games for the Yankees, who finished tied for third in the AL East at 85-77, 12 games behind division-winning Boston. Bothered by sore legs, Alex Rodriguez didn't get into the finale. The appeal of his 211-game drug suspension starts Monday. New York finished with its fewest wins in a non-strike season since 1992 and failed to make the playoffs for only the second time in 19 years. Manager Joe Girardi's contract is expiring, and he hasn't said whether he wants to come back for a seventh season. "I see it as a year where there are probably more areas to address than there have been in a long time," Girardi said. "So there's a lot to be done in the offseason." Same for the Astros. Houston (51-111) set a team record for defeats and had the most in the majors since Arizona lost the same amount in 2004. The Astros finished with the lengthiest season-ending losing streak since the 1899 Cleveland Spiders dropped their last 16, according to STATS. The Astros' 324 losses over three years matched the 1917 Philadelphia Athletics for third most in major league history behind the 1962-64 New York Mets (340) and the 1963-65 Mets (332), according to STATS. Houston had two hits after the first inning and struck out 19 times. The Astros' season total of 1,535 set a major league, six more than the previous mark by Arizona in 2010, and Chris Carter finished with 212 after whiffing three times; only Reynolds (223 in 2009) and Adam Dunn (222 last year) have struck out more. "It's just a big learning experience for everybody," Carter said.
The New York Film Festival kicked off Friday night with a standing ovation for the premiere of Sony's Captain Phillips , the audience clearly impressed by the suspenseful Tom Hanks-starrer, based on the true story of Captain Richard Phillips' struggle with Somali pirates in 2009. our editor recommends New York Film Fest: New Chief Explains 2013 Picks (Q&A) Before the movie, screenwriter Billy Ray told The Hollywood Reporter that the gripping nature of the real events made it easy for him to turn them into a film. "As true stories go, this one laid out like a movie," he said. "I mean, it had drama and tension and huge politics to it. It had action built into it. The beauty was I didn't have to invent anything, we just had to make smart event choices and get out of its way." PHOTOS: New York Film Festival's Movies to Know Ray conceded that there were challenges in terms of trying to portray the events accurately, but he had help from the real Captain Phillips to make sure he got the details right. "I had access to him whenever I needed it," Ray said. "I spent a great deal of time with him and his family. A lot of phone calls, a lot of e-mails back and forth when he was back at sea againHe was absolutely invaluable." Ray's previous work includes writing screenplays for Shattered Glass and the movie version of State of Play, and he told THR that those titles, as well as Captain Phillips, are all films about integrity. Captain Phillips notably bypassed the Venice, Telluride and Toronto Film Festivals to debut in New York, a decision that producer Michael De Luca told THR was based on a combination of timing and his and producer Scott Rudin's Gotham-centric backgrounds. PHOTOS: Exclusive Portraits of Captain Phillips' Tom Hanks and Barkhad Abdi "It's always a combination of schedule and the best platform for the movie and we just thought the New York Film Festival would be the best opening platform for the film and it worked out for us schedule-wise," De Luca said. "They really embraced the movie, and any chance to be at the New York Film Festival (I'm a New Yorker, ex-New Yorker because I live in L.A. now, Scott Rudin's a New Yorker), any chance to be in this festival because of its prestige and what a great show they put on, we had to leap at it." Prior to its enthusiastic reception at the festival, Captain Phillips had already received good reviews from critics like THR's own Todd McCarthy .
New York at Houston
Rich Cimini (@RichCimini) September 29, 2013 6:51 PM ET 8:49 4th Quarter Touchdown Jets! Finally, the Jets are able to connect downfield with Jeff Cumberland. Great throw by Geno Smith to beat man coverage. The Jets may lose this game, but they can take solace in knowing that they didn't quit. 6:49 PM ET Rich Cimini (@RichCimini) September 29, 2013 6:46 PM ET The MMQB (@theMMQB) September 29, 2013 6:45 PM ET 11:00 4th Quarter TOUCHDOWN TITANS! Geno Smith loses the ball behind his back while taking a sack and the Titans recover in the end zone! This one is all but over at this point. Titans 31, Jets 6 Here is the fourth-down play: 6:41 PM ET Turnovers and penalties are the difference. They just handed out third quarter stats – everything was pretty even between Titans and Jets in that quarter. Dan Leberfeld (@jetswhispers) September 29, 2013 6:36 PM ET 13:58 4th Quarter The Jets take a chance to a pitch on fourth down, and its easily stopped by the Titans. The Jets are running out of opportunities to come back, but they had to take their chance there. 6:32 PM ET Terry Lambert (@LambertScouting) September 29, 2013 6:31 PM ET 1:20 3rd Quarter Don McPeak-USA TODAY Sports Geno Smith is starting to settle down after a big run, and he'slooking decisive. However, yet another penalty brings back a designed run. Penaltieshave beenkilling the Jets all game long. 6:29 PM ET 2:10 3rd Quarter Darrin Walls makes up for his slow start by breaking up a third-down pass. He may have picked it off if he did not stumble at the end of the play.