The 44-year-old actress headed out to a press junket in New York City in a grey summer dress that showed off her toned legs, even tan, flat stomach and still-curvy figure. Jennifer had her famous blonde hair parted slightly to the side and her long tresses draped onto her shoulder. Regular chic: Jennifer Aniston rocked a short grey summer dress on Saturday as she headed to a press junket in New York City The former Friends star looked cool in a park of dark aviator sunglasses and accessorised with a single bracelet. Jennifer had on only light make-up and wore a pair of nude high heels. The look was a far cry from her dowdy appearances earlier this week as she filmed Squirrels to the Nuts in the Big Apple. Ready to talk: Jennifer was headed to a press junket with reporters Jennifer was spotted wearing a short brown wig with a pair of unflattering eyeglasses. The comedy is about a Broadway director who falls in love with a prostitute-turned-actress and helps her with her career. Jennifer is filming the hotly anticipated movie alongside Owen Wilson, Cybill Shepherd and Eugene Levy. Hollywood star: Jennifer became famous for playing Rachel Green on NBC's Friends and has a successful movie career Looking cool: Jennifer donned a pair of dark aviator sunglasses Stepping out: Jennifer stepped out of a black SUV as she headed to her press junket The star became famous for her layered 'Rachel' hairstyle while playing Rachel Green in Friends in the mid 1990s. She recently admitted that her hair takes a lot of maintenance work. 'I have naturally wavy, frizzy Greek hair, and over the years it's taken a beating from blow-dryers, flatirons, curlers, and extensions, which I think are the most damaging,' she told the July issue of Marie Claire magazine. That's where she was headed: Jennifer posed for a series of portraits with Jason Sudeikis to promote their film We're The Millers She likes this guy: The actress was beaming next to the subdued Jason 'I couldn't get it to grow because it just kept breaking,' she added. 'Even when it was longer, it didn't look long because the ends were so thin.
Jennifer Aniston Hints at Brad Pitt Years: I Needed "Therapy"
But alas, the event was not the couple's walk down the aisle. Also PHOTOS: 50 most beautiful female celebrities Instead, the "Friends" alum hosted about 80 guests at her newly renovated Bel-Air abode, which she purchased in February 2012 for $24.9 million and spent quite a bit of time renovating, for her actor beau's birthday, just like her rep said she was doing. Those wedding rumors perked up again when no-parking signs were put up around the house over the weekend and a large shipment of Champagne was delivered Friday. Aniston alsoinvited her hairstylist Chris McMillan to her house to style her coif. The timing was also perfect, since the day marked the one-year anniversary of Theroux's proposal to the actress. He proposed on his birthday last year , so the rumor mill had that occasion-eclipsing precedent to go on. Maybe this was her way of saying, "Hey, thanks for proposing to me on your big day last year, allow me to return the favor." The casual affair mostly took place on Aniston's massive patio and manicured grounds around her pool, Radar Online reported . Theroux and many of the guests reportedly wore jeans. PHOTOS: Jennifer Aniston gets her Hollywood star "Justin looked very happy and like he was really enjoying his birthday and showing off their new house," as source told E!. Partygoers included Ellen DeGeneres and wife Portia de Rossi , Kristen Bell and fiance Dax Shepherd, Tobey Maguire, Isla Fisher and husband Sacha Baron Cohen , Don Cheadle, Jimmy Kimmel, Tobey Maguire and his wife, Jen, Ben Stiller , Jason Bateman and Lake Bell, according to a few reports. Other guests surrounded a fire pit inside the living room, near a huge bar, and an indoor-outdoor deck was home to a buffet of finger foods and small appetizers prepared by Aniston's personal chefs, E! reported. The affair wrapped up around 11 p.m.
Credit: Alexei Hay/Glamour If Jennifer Aniston could go back it time, it sounds like she'd do a few things differently during her five-year marriage to Brad Pitt . In the September issue of Glamour , the 44-year-old actress has a frank discussion with her We're the Millers costar, Jason Sudeikis , about how she wishes she would have gone to therapy in her thirties, but why she's finally happy with fiance Justin Theroux . Aniston threw a dinner party at her house in Los Angeles and let Sudeikis, 37, interview her for the magazine . "In the movie, your character is learning to access her parental instincts," the former Saturday Night Live actor, who is engaged to Olivia Wilde , told Aniston. "I would argue women are better at that." PHOTOS: Jennifer Aniston and Justin Theroux's sexy beach bodies "I think that's just you! I know Justin, for instance, has extremely amazing paternal instincts," she said of her fiance of nearly one year. "Because [growing up] he had to sort of become the parent. I think when you have to become the parent when you're a younger person, you learn those instincts." (Theroux is the son of Phyllis, a journalist, and Eugene, a corporate lawyer, and has a younger brother, Sebastian.) "I noticed on set that you had very maternal instincts with [costar] Emma Roberts ," Sudeikis noted. "I did," Aniston agreed. "But she's wise beyond her years." Still, the actress added that she's had those mama instincts "all throughout my life." Aniston also opened up what advice she'd give herself in her thirties. At that time in her life, the actress was going through a very public divorce from Pitt. Credit: Alexei Hay/Glamour "Thirties.
Jennifer Aniston – Can she leave Rachel behind her?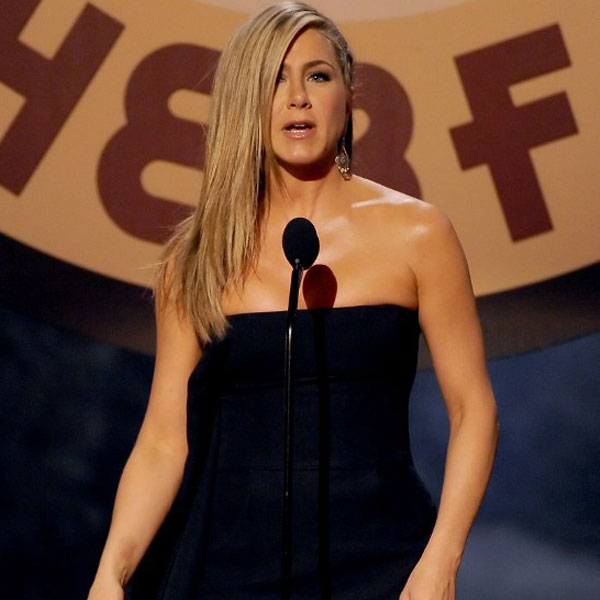 Their BFF! The girl next door who put on a plucky face and soldiered on when her husband dumped her for Angelina Jolie! The patron saint of jilted women everywhere. The devotion Aniston inspires is almost as scarily intense as the hatred, both factions making it their business to dissect her private life, psychoanalyse her choice of clothes and make-up, and lob invective at each other in the continuing Team Aniston vs Team Jolie wars. But there are three things we should realise about Jennifer Aniston: 1) You don't spend a decade in a smartly written sitcom without acquiring razor-sharp comic timing. 2) At least some of the loathing she inspires is due to her area of expertise being that most despised of genres – the rom-com. 3) The reputation she has somehow been saddled with for being "box?office poison" is false. With few exceptions, her films have made money. The exceptions include Wanderlust, a Judd Apatow-produced comedy that flopped in cinemas but may yet make its money back in auxiliary markets, Brad Bird's under-appreciated animated gem The Iron Giant, in which she provided the voice of the kid's mum, and cult hit Office Space, in which she was underused in a boring girlfriend role. She has played her share of boring girlfriends, but hitching her star to those of Jim Carrey (in Bruce Almighty) or Adam Sandler (in Just Go With It, a remake of the 1969 comedy Cactus Flower, with Aniston in the Ingrid Bergman role), or blending into an ensemble rom-com cast (something at which she has had plenty of practice) in He's Just Not That Into You, enabled her to add some smash hits to her CV. Nevertheless, in nearly every case where Aniston has had star or equal billing, the box-office takings have been substantial – she's one of the few female stars who can command audiences worldwide. "The Rachel" is not just a hair-do but a performance, one on which she has been ringing sometimes intriguing variations for over a decade. There's Rachel with a gay friend in The Object of My Affection (one of the first rom-coms to acknowledge that a girl's best friend is often homosexual), Rachel as Manic Pixie Dreamgirl (a bubbly, life-loving creature that only exists on film) in Along Came Polly (a film that cunningly subverts the cliche to turn her into the Voice of Reason opposite Ben Stiller's neurotic), Rachel falling out of love with Vince Vaughn in The Break-Up, a reverse rom-com that bravely addresses the decline of a relationship, rather than its flowering.