But the demonstrations are not expected to turn into the massive protests that brought cities to a standstill in 2010, when Hollande's predecessor, Nicolas Sarkozy, raised the retirement age. Partially that is because Hollande, a Socialist, consulted with union leaders when drawing up the reform. Also, the changes, which the lower house of parliament votes on this week, will fix only a part of what needs changing, analysts say. "It's the salami strategy," said Elie Cohen, an economist at Sciences Po university. "We have a big problem, we don't know how to fix it, so we cut it into pieces, like a nice sausage." Hollande's reform would lengthen the number of years people must work to receive a full pension, from 41 years today to 43 years by 2035. The first increases begin in 2020. Economists say there are three problems with the proposal: It takes effect after most baby boomers will have retired, meaning it doesn't address the cost of paying for their pensions. It still isn't asking people to work long enough, especially since life expectancy is rising. And it ignores the special deals that allow some workers to retire early and account for two-thirds of the retirement system's $27 billion deficit. The European Commission, the EU's executive arm, and others have raised concerns about how the pension system will be paid for without further burdening French employers, which already pay the highest payroll taxes in the EU. Some economists say the problem with the "salami strategy" is that the reforms are always behind the curve.
Confidence returning to improving France team
But on Friday night, the hard-to-please crowd rose to their feet at Parc des Princes to applaud them off the pitch after a feast of attacking football. "People want to be thrilled and to feel sensations," Deschamps said. There was another welcome sight: Karim Benzema scoring again for the first time since June last year. After ending his 15-match run without a France goal, Benzema was quick to play it down. "I knew it wouldn't last 10 years. But once again, the most important thing is the team, not me," the Real Madrid striker said. "It had been a while. I'm very happy but it's not just about my goal. You have to talk about the match, how spectacular it was. If it was 6-0 then that's down to the whole team." Benzema remains under pressure, however, and in the last two games has lost his starting place to Arsenal's Olivier Giroud, who scored twice and led the line brilliantly against the Australians with his touch and link play. "Giroud must take credit," Deschamps said.
How France Will Line Up Against Finland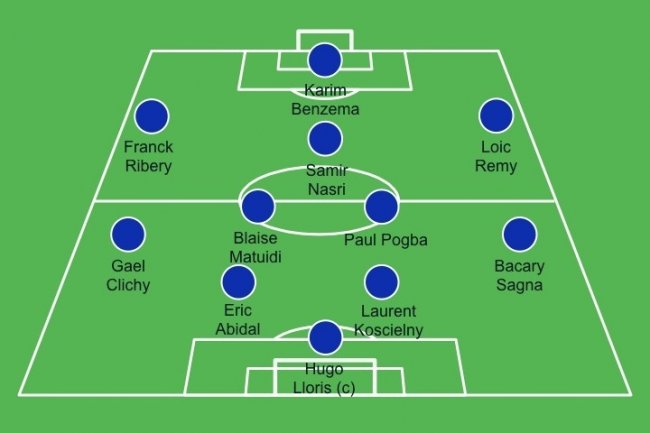 Les Bleus believe the system is flawed because fewer ranking points were available in five-nation Group I while the other sections all contained six teams. "We're going to contact (FIFA)," French Federation president Noel Le Graet told the radio station RMC. "There is a little injustice between the group of five and the groups of six. "Our rivals from other groups have been able to score more points … that's a fact." Asked if he had discussed the issue with Le Great, coach Didier Deschamps said he was not aware of a potential appeal. "I don't know if my president will bring the case," he told a news conference at Stade de France. "I wouldn't go that far in saying there's an injustice but the fact is that we are sanctioned," he added. "I see it from my position, from an ethical point of view. It's already complicated to be in a group of five and we also lack some points." Captain Hugo Lloris also found it hard for a team who won the 1998 World Cup and reached the final in 2006 not to be seeded although he recognised it was up to the players to improve the rankings. "It shows us how much work we have to do. France should be seeded because of their history," he said.
Soccer-World Cup playoff seeding unfair, say France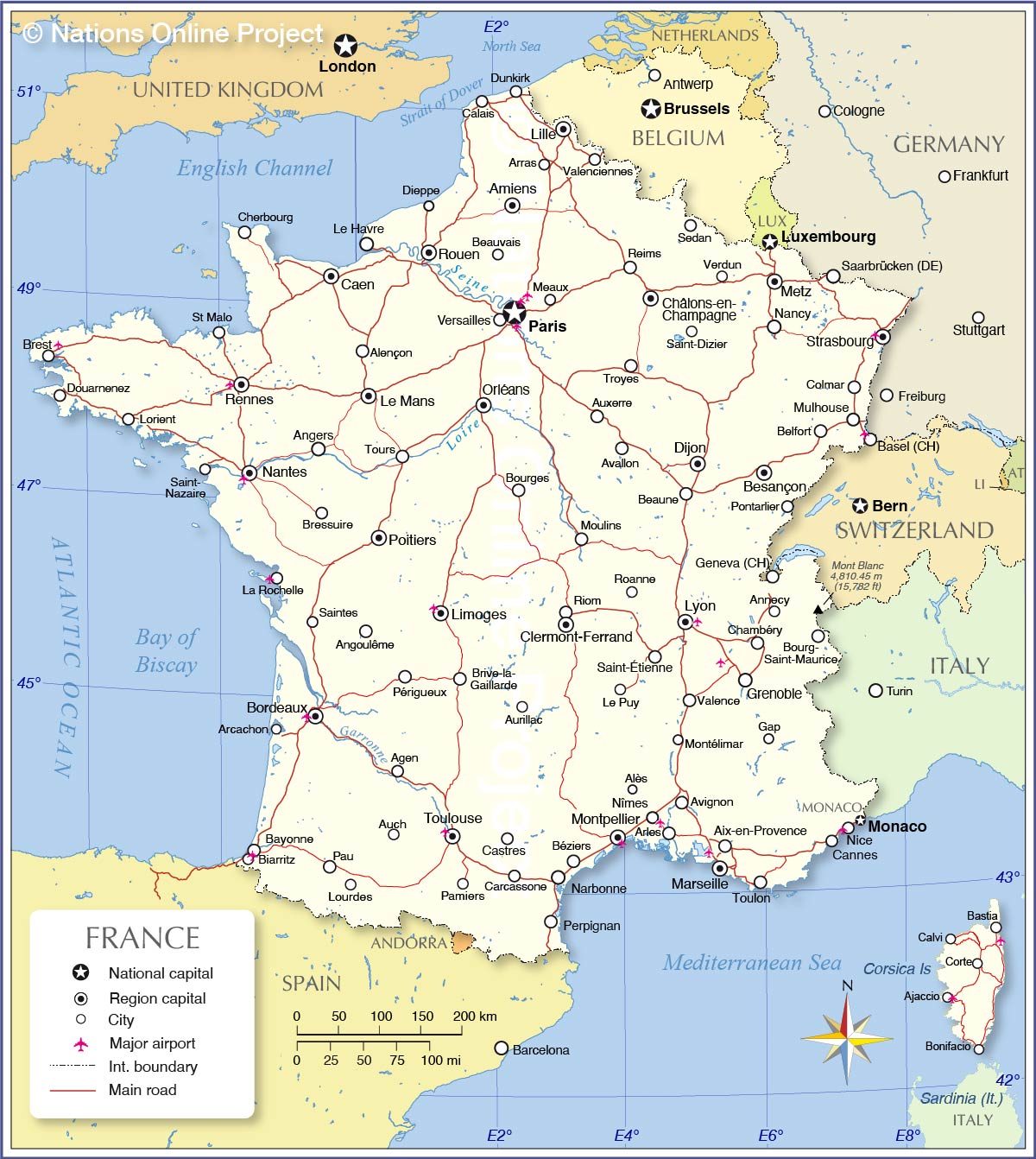 Didier Deschamps' side, after scoring just four goals in seven games all year, has now scored 10 in their last two. This sudden glut of goals gives the 44-year-old some selection dilemmas, not least going forward, as Les Bleus seek to secure themselves the best possible position going into the World Cup qualifying play-offs. Admittedly, France do find themselves at a disadvantage given that they were drawn in Group I, which only boasts five teams. The French Football Federation have indicated via President Noel Le Graet to RMC Radio ( ESPN FC ) that they will contest this decision. However, Deschamps side has failed to score in two of their seven qualification matches (against Spain and Georgia) since he took over from Laurent Blanc. They have also played in seven other friendly matches during that time, including five where they have failed to score a single goal. If it did not look so bleak in qualification terms, friendlies against the likes of Brazil, Uruguay and Japan have exposed the weaknesses of the current generation. Add that to playing two less qualification games in Group I than the rest of their likely play-off opponents, and you can understand why France will almost certainly go into the draw unseeded. Scoring six goals against a weak Australia side may be morale boosting, but those goals need to be translated onto the competitive stage for it to indicate any real progress. Ahead of the clash with Finland, Deschamps has a number of considerations. David Rogers/Getty Images Firstly, Karim Benzema, as well as Olivier Giroud, found the net against the Socceroos. Although that is a big boost for the team, it is also what Deschamps has been desperate to see happen since Benzema embarked on a hideous run of 1,222 minutes without a single international strike. The French tactician came in for some fierce criticism at times for putting his faith in the Real Madrid man instead of Giroud. Fridays goal at the Parc des Princes may well feel like vindication in a way for Deschamps. There is a chance that, despite his two goals, the Arsenal man might have to make way for Benzema given that his coach has demonstrated that he considers the 25-year-old part of his strongest XI. Although it was a major boost to see Benzema find the net, Les Bleus first half showing without him on the field suggested that they would be just as dangerous sticking with Giroud. David Rogers/Getty Images Benzema was not the only player to have answered his critics against Australia. Samir Nasris return to grace was completed by his first starting appearance for France since the ill-fated 2012 European Championship in Poland and Ukraine, as reported by ESPN FC . The Manchester City man made his international comeback earlier this year in the friendly against Belgium, as reported by ESPN FC . But he put in a strong performance when given the chance on Friday and could now usurp Mathieu Valbuena for the Finland clash. However, Valbuena has been a stalwart for Deschamps since the former Olympique de Marseille coach took over from Blanc. Dropping him would mean losing one of his key components on this France team. 15 – Mathieu Valbuena is the only player to have played in each of the 15 France games under Didier Deschamps era.